Welcome to the Byte Blog where we share our thoughts on design, technology, and occasionally, cats.
by Sam Korthof on Nov 4, 2014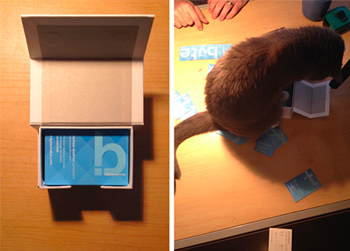 Our new business cards came in the mail, and they look great! Mokey, our furry senior designer, approves.
Anyone familiar with Moo, a popular printing company, will recognize that these are Luxe business cards. They're about 3 times thicker than your standard card, and it's noticeable. There's also a very subtle blue stripe all around the edge of the card. It's all about the details, folks.
Read more