By: Michael Diedrick on May 15, 2012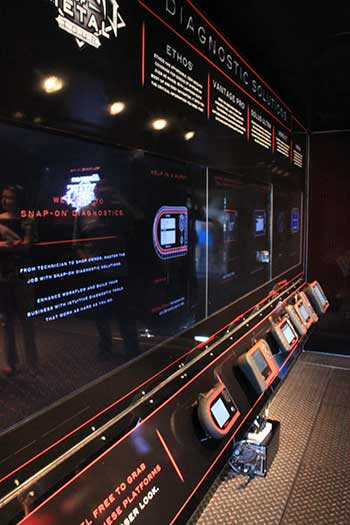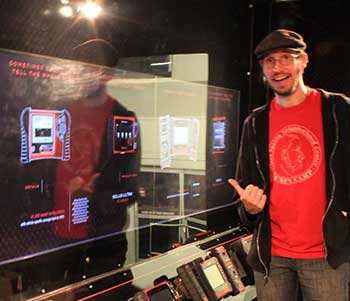 An eleven-foot multi-touch system delivering 3D views of quality tools, all installed on a custom-built semi truck driving across this great country of ours? Hell yeah.
Thanks to Evan here who make this possible, and Traction Factory who hired us to deliver their crazy ideas and solid designs.
We spent a week on-location at the custom truck shop in North Carolina, eating BBQ and working until dawn thanks to some last minute vendor changes. Since we hadn't really worked with this vendor's multi-touch system before, and the big part of it was delivered a week after the first install date, much of the work and re-work had to be done on-site. The truck vendor kindly let us camp out in their meeting room while we patch cables, moved multi-touch points and did all the finessing.
Multi-touch, as it stands now, is not done much on a large scale system -- all the systems we've seen are up to a couple of feet. This system is an IR system that would be much like a heist film where there's lasers crossing above the treasure, when you put your finger on the glass, you're stopping some IR from being caught on the other side. Interpolate that and you've got multi-touch.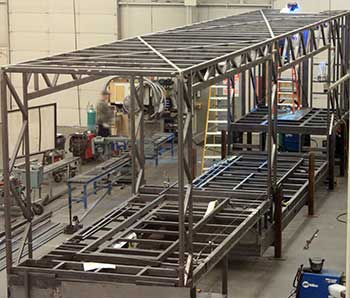 This is what a custom-designed semi-truck starts out as.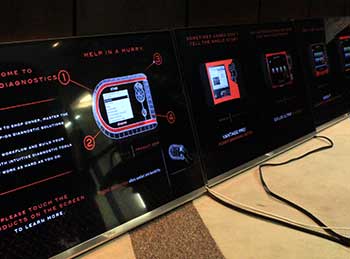 ...and eleven feet of testing and final edits!