Work
Outpost has been leading on sustainable and quality food for 40 years
They've helped show that the 'wheres' and 'hows' of food production is vital. They've showed us how organic, sustainable and local food can make a difference at the dinner table. They have set the bar for groceries.
Background
Outpost Natural Foods is a member-owned grocery cooperative with four locations and 40 years of experience in healthier, more ethical and more community-oriented food. Outpost has been true to the cooperative ideals of sharing, openness and transparency while building a stronger, more sustainable store.
Natural food co-ops have unique challenges. Regular big box groceries are aggressively cheap to the point that quality, environmentalism and ethics aren't part of the equation, a profit-over-everything model. A natural foods co-op starts from a triple bottom line that looks at the whole lifecycle of food. As such, it's a different narrative, and a more complex story to tell.
Outpost's commitment to their customers is in a class by itself in the grocery industry. They strive to connect with and help solve any problem or issue a customer has, be it via comment card, website form or conversation with an employee. We needed to help communicate that, and to help them manage a customer relationship management system that isn't about sales.
Content Strategy
Shopping at a co-op can be confusing for new shoppers, and can be a bit of an off-putting experience. There's a plethora of products they've never seen nor know how to use. They see other co-op shoppers that know their member number and understand the bulk and spice bin system. For the new shopper, this can seem a little like shopping on mars. We need to show that shopping is easy and membership is optional.
And then there's the pricing. Most big box grocery have loss leaders that set expectations to a consumer, often times the price of a gallon of milk, say. A the co-op, not only are there ten choices of milks, but the price range goes from slightly more expensive to way more expensive. Our first rule in natural food stores is to help show that there are plenty of foods that are on par with regular stores price-wise. We have the site lead with product prices and features, and make it easy to peruse the circulars and specials. We want to help people know that there's better food for everyone at Outpost.
And at the same time, we need to introduce one of the best parts of an Outpost experience, the delightful customer service staff. Asking a question at a big box store won't get anyone very far, but asking a question to an Outpost staffer, you'll find someone who loves food and knows a lot and will give a shopper the time to explain anything they need.
Outpost has a plethora of worthwhile content: an amazing recipe database, hundreds of articles from their magazine Graze, inventive and well-loved blogs and a commerce system that helps them manage memberships and events. The content strategy is framed at first by the misconceptions, but gets right to the value by turning 40 years of valuable knowledge and experience into an easy-to-use online resource
Design strategy
The design needs to dovetail the content, and Outpost's site needed to look fresh, tangible, and tasty. And it needs to be trusted. Color, impact and delight were the working adjectives when we were sketching out ideas, and "of the earth" became the phrase. The site features the sky-to-ground-to-dirt system, with plenty of textures and fun to be discovered.
The architecture and branding on the site itself needs to harken to the values and the quality of the products. More than that, the site needed to show the story of food and food production, of vendor curation, and of caring about the customer well beyond a profit margin.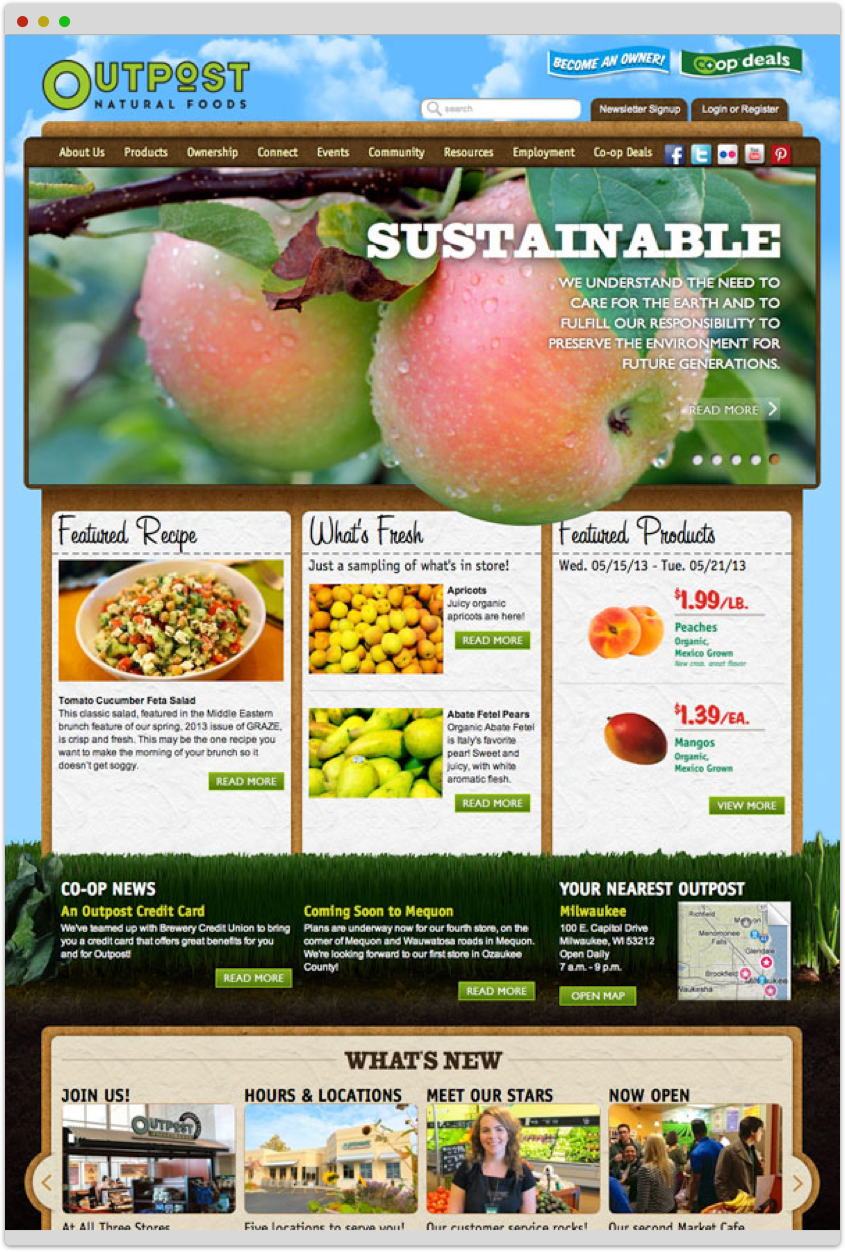 We built a community section which allows Outpost to provide information about their food producers, including the producer's backgrounds and where and how they produce the food. Showing that people throughout the food production chain are the drivers of quality and a better world, people can start to adjust their understanding of the true cost of groceries and how a shopper can make a difference.
Tooling: Issues Relationship Management
Outpost has an unusual commitment to shopper happiness, something not seen in big box stores. Every single comment is considered, and anyone who wants an answer back will get one. Outpost's system started with comment cards in store, and each card was transferred to spreadsheets and emails that required administrative work to maintain. This was both burdensome and got in the way of the delivering better customer service.
Working with Outpost, we helped design and create a database of all the issues that ensured every issue is seen and managed and customers get a fast, worthwhile answer back quickly. We built multiple customer and staff input methods, easy tracking, issue notifications and digests, and a process to help share issues with store managers, department managers or other folks within Outpost so customers can hear directly from the people responsible and the people responsible can hear directly from customers. Better human-driven customer service is driven by better human-driven technology.
What We've Learned
Outpost has shown us that how food is produced matters, how much of community food builds, and how the story of food is what matters most. Co-ops like Outpost, we've learned, are about sharing, about commitment to quality and producer, and about long term relationships. We're honored to be owners and to help Outpost become stronger and more sustainable.
We wanted web designers that could create a site that was uniquely us from the look and feel to special features.

We also wanted a team of people that could speak our language and who took the time to really understand our business's soul. We found that in Byte. We also found a place that took us beyond what we could have envisioned and over time the look they created for our website has helped us to upgrade our brand look as well. The icing on the cake - their CMS rocks.

We consider them partners and we directly attribute our increased sales and brand awareness to the website we co-created with them.
Outpost Natural Foods