Work
Catering Works is one of the best catering companies in Raleigh/Durham, NC.
A true visionary in the world of catering, Catering Works is easily the best catering company in Raleigh/Durham, NC.
Background
Catering Works (CW) is easily one of the best catering companies in North Carolina, serving the triangle region for 25 years. They work with weddings, corporate catering, event catering and everything in between. They've been published in basically every wedding magazine. They've won national awards and a slew of local awards. And they are a family company, treating their staff and their clients with a true southern hospitality.
We've been working with Catering Works for coming on 20 years. We created multiple versions of their site over time, including a Flash version back in 2002. We've been managing their brand in print and online, extending it and giving it depth as the company grows and evolves. CW has grown in size and in ideas, with separate brands for Pastry Works, Bloom Works and their on-site venue The Laurelbrook.

A company that has this much commitment to quality and service needs a design and web development studio with the same commitment.
Strategy
Catering is a multi-faceted business. There are disparate audiences with an ever-expanding set of needs that need to be addressed as a business like this evolves. Even if we know the company and have built the site multiple times over the years, we start the project with a deep look at audiences and their needs ('use cases'). CW's audience complexity had us creating audience segments and subsegments in search of a better sense of how people would use the site. We also define the needed content needs and search terms people might use to find the site.
Completing the content strategy required some in-person meetings with whiteboards and sticky notes. It's a fun process to define a sitemap, but it's also draining and requires time for recharging, so being on premises of a catering company that makes a big lunch for everyone is a great way to refresh. In this sitemap session, we needed to cover some basic wire framing because the sitemap at hand was going to break Miller's law that a sitemap level cannot have more than 7 items. We solved it by breaking it into two with a center logo, thus having the perfect amount of items to communicate the complexity.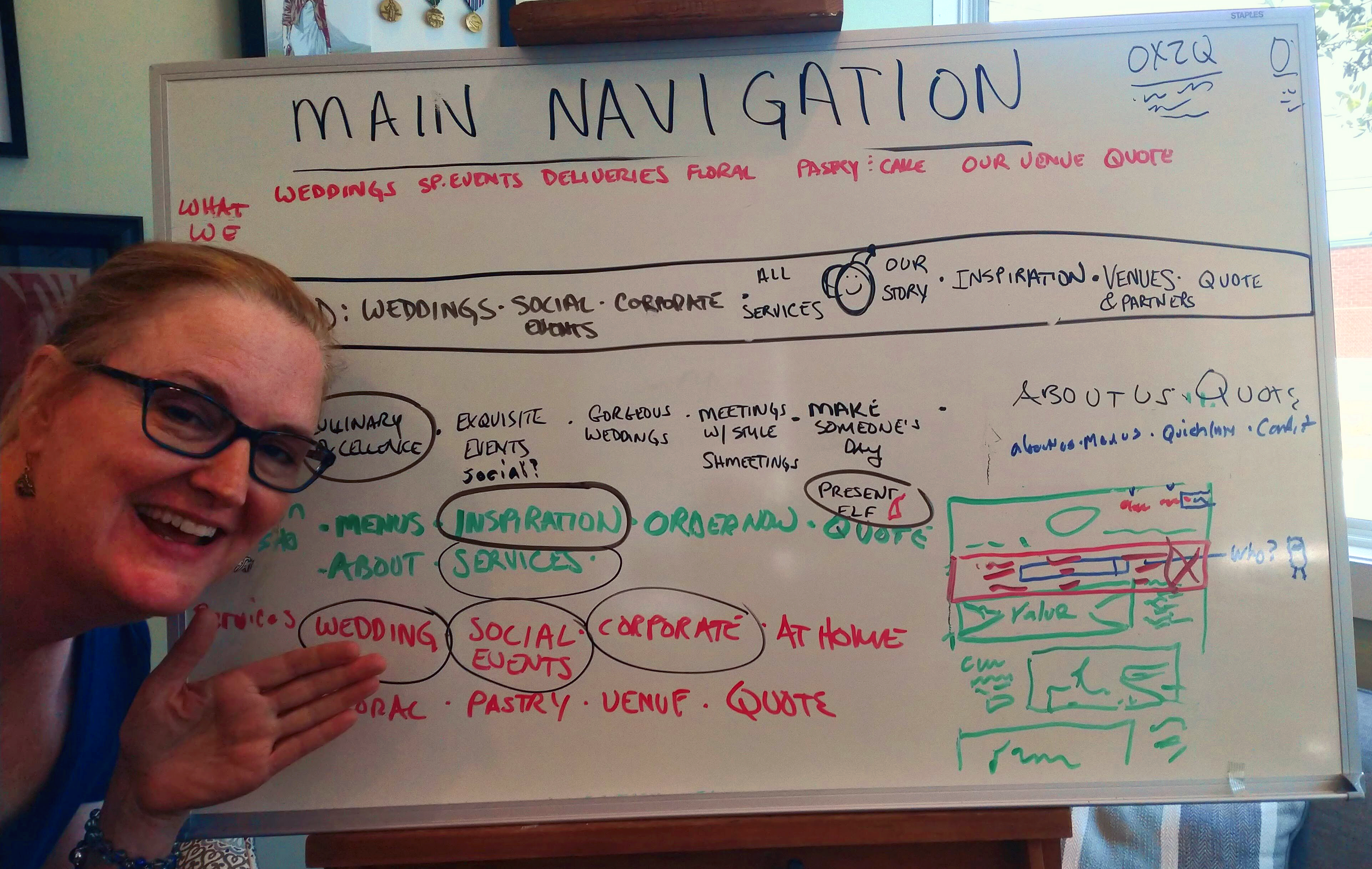 The content, from this point, becomes much easier, and more a question of media and function. A catering site lives and dies by brilliant photography, and CW works with area photographers to get images that tell the story of quality and service. A catering site also needs to have big, easy to find starter menus and contact forms. We also worked the beginnings of a cake explorer, being able to try different cake ideas out visually on the site.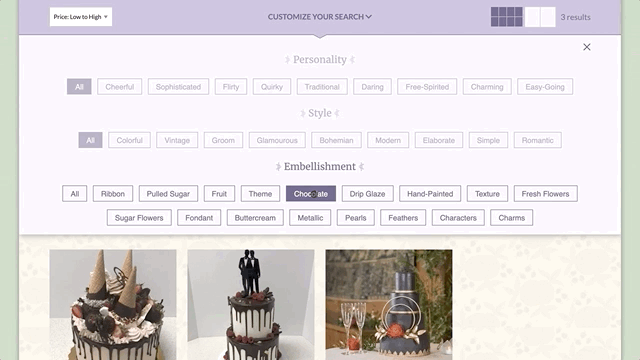 Design
We've been working on the brand and related media for CW for years, so we have a sense of the direction of the site, but visuals work so much different on computer than paper, so we tried multiple looks and feels before finding the right look. The site relies more on movement than most, and a grouped "mega-navigation" that takes up enough room to tell a story for each section.
Lagniappe
By the time we near completion of website, we realize there's something we need to create that could make a site come alive, but it's beyond budget. We just do it anyway, and in CW's case, the top menu works on multiple screen sizes, incorporates strong imagery, and most importantly is animated in a way that just feels like CW. Working with CW is a unique experience, the site needs to illustrate that by every means possible, even a little bounce that takes us a week to perfect.
Byte understands and responds to the needs of our business. Their creativity and innovation is evident in the design and elegant flow of our website. Our customers consistently remark on the ease in which they can place orders or view our menus online. The associates at Byte are friendly and efficient, and continue to provide us with exceptional customer service. I would recommend Byte to anyone seeking creative and reliable web and multimedia solutions.
Catering Works